WordCamp Toronto 2013 took place earlier this month (same time as WordCamp Europe, actually) at Humber College in Toronto's west end. This was the largest WordCamp that Toronto has ever held. We had over 400 registrants & 30 speakers, 4 session tracks, plus workshops and discussion panels. As with any event, there were risks and challenges, but it all worked out in the end. We knew we succeeded when we heard people talk about how much they had learned, how great of a time they had, and how they were motivated to tackle more projects with WordPress. All good stuff! We'd like to look back on the event in this post, and share some of our organizerly experiences. :)
Location, Location, Location
Securing a venue is one of the biggest hurdles for a WordCamp. We were lucky to find a venue partner in Humber College's School of Media Studies & IT. Moving to the west end was a gamble, but Humber was worth it, no question. The amount of support and good vibes we got from the Humber faculty was incredible, especially with the last-minute rushing in our final weeks before the event. What could we improve? Clearer communication about parking, local accommodations, and nearby amenities for attendees. More signage in the venue (especially at the Happiness Bar) would help reduce confusion. More collaborative work with Humber College would've been good, e.g. providing more opportunity for students to get involved.
Celebrating Our Community
The Toronto WordPress Group started several years ago as a small social meetup in the back of a pub. It's grown considerably since then. We just passed the 1000 member mark this September, and new members keep joining every week. With that in mind, we like to think of WordCamp Toronto as the ultimate meetup. We try our best to provide something for everyone. As with our meetups, we want attendees to walk away with more knowledge and connections than when they walk in, regardless of their technical skill or experience with WordPress. It's why we pour so much time — 8 months of planning — into the event. What could we improve? More diversity in topics, especially in user-focused tracks. WordPress.com, bbPress, BuddyPress, fundamentals of HTML & CSS, accessibility, writing content for the web… there's so much more that could be done here.
Working as a Team
Our meetup group has organized the last three WordCamps in Toronto, including two back-to-back WordCamps last autumn (WordCamp Toronto 2012 and WordCamp Toronto: Developers 2012). Two of our three organizers stepped down at the end of 2012, so we partnered up with the WordPress GTA (Mississauga) meetup group to make sure we could keep things going smoothly into 2013.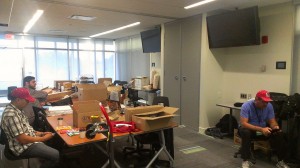 What could we improve? Regular face-to-face meetings with other organizers are important, even if it's over Skype or Google Hangouts. Coordinating a team without being able to have these meetings makes things muchmore difficult. In the future, we should be more consistent with meetings, and make them a commitment for all organizers.
Trying New Things
Previously we (the organizers) would make a judgement call on what sessions would be a good fit for the schedule, and arbitrarily slotted them in based on personal choice. This year we tried something different. For Saturday's sessions we created a "curriculum" for the entire schedule. The idea was that each hour had a central topic in common, and attendees could jump from room to room based on their experience level. For Sunday's panels and workshops we took a more casual approach. What could we improve? A better balance between structure and spontaneity. Our panels were well received, but we could've done a better job with moderating them.
Feeding Hungry People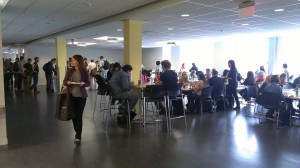 Food is a point of pride for us. We go all-out with catering, and we try to top ourselves each year. For 2013 we had vegan-friendly and gluten-free options for both days. Saturday's hot food and delicious desserts were provided by Tailor Made Cafe, while delicious onigiri was served by Abokichi on Sunday. What could we improve? Sunday's breakfast needs to be as good as Saturday's breakfast. :)
Recording Everything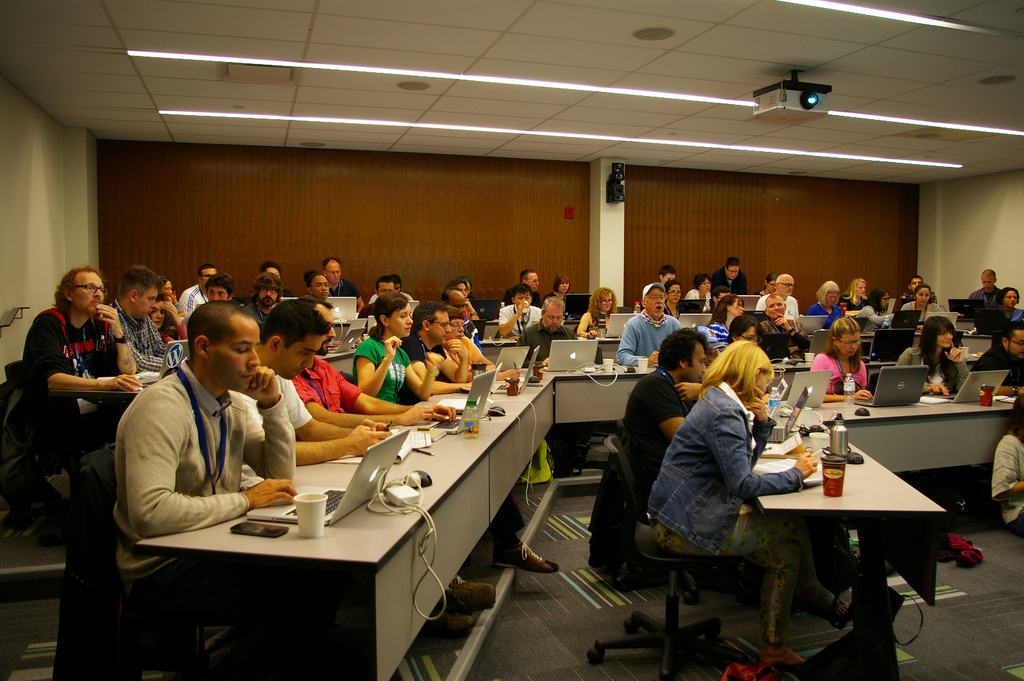 Once again we had cameras set up in each room to record the presentations. Editing and publishing has been a pain point for us over the last few years (technical and time issues, mostly). We're hoping that we'll get everything out much faster this time. What could we improve? We'd love to live stream our sessions and edit them on the fly. Some day, maybe…
Gathering Feedback
After the event was done, we placed a Thank You blog post on the site and created a Polldaddy survey to gather feedback from our attendees. The 6% response rate was far from ideal, but it did give us someinsight into what attendees thought about the event. (If you're interested in seeing some of the highlights, we published results from the survey this afternoon.) What could we improve? We should ask attendees for their feedback immediately after they've seen a presentation.
To Recap…
If you can, find a venue that will work with you. We've had great luck with colleges, because our focus as a WordCamp matches their mandate in technology & new media education.
What new presentations could your group add to WordCamp.tv? WordCamps (or ours, at least) could do with more diverse topics.
Think of your WordCamp as the ultimate meetup. Reach out across skill levels, and try to provide something for everyone.
Balance structure and spontaneity. Great things happen when you provide a platform for new ideas to build on. (Kinda like WordPress itself!)
Providing a good meal can go a long way towards hosting a great WordCamp!
In an ideal world, we would all stream, record, edit, and publish our videos in real-time. How close can you get?
For better response rates, ask for feedback immediately after the presentation.