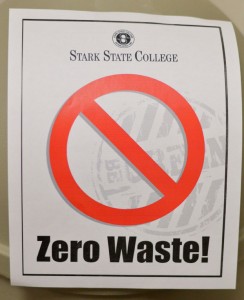 There's no denying that the WordCamp North Canton organizing team is made up of people who seek to protect the environment. In fact, a few of us were involved with starting a Green Business Roundtable networking group in our city, and through that effort we made a lot of friends involved in sustainable businesses and activities. When we decided that we were going to organize a WordCamp in North Canton, we knew we wanted to try to limit the environmental impact of the event.
Making it happen
The goal of planning a zero-waste WordCamp started to come together when we talked with the Green Business Roundtable to secure the Stark State College Business and Entrepreneurial Center for our event. We would be hosting attendees in the newest, greenest building on the Stark State Campus. The center was designed with sustainability in mind, and it meets LEED Silver standards, including a 30% energy reduction, 40 percent water reduction and a solar domestic hot water system. The building also houses several water bottle filling stations. Hosting the event in this building was a significant step in our green efforts.
Next, and again, thanks to people at the Green Business Roundtable, we were connected with Stark State College students who ran our zero waste disposal stations. They would provide the appropriate waste bags, buckets for excess liquid, signage and in-person instruction for anyone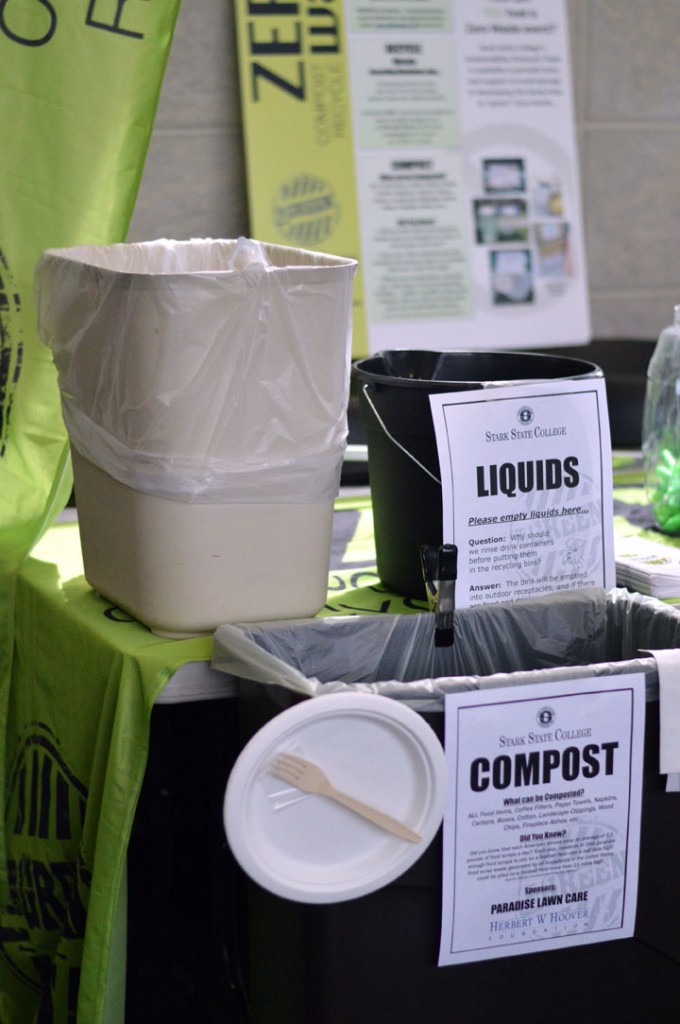 who might be confused about what goes where.
We had the zero waste tools in place, we just had make sure that everything we offered at the event was either recyclable or compostable. We called on our favorite pizza shop, Ermanno's Legendary Pizza, because not only is their food fantastic, but they had just undergone a sustainability audit and started using all compostable materials and sourcing local ingredients as much as possible. They provided lunch, including compostable plates, napkins and forks.
For breakfast, we partnered with another of our favorite local companies, Four Kids Coffee. Four Kids Coffee practices sustainability in every area of their business. Their coffee is fair trade and organic and the pastries they provided were all made locally in their shop, using only vegan ingredients. We didn't advertise that they were vegan, since some people can be vegan shy, and the breakfast received rave reviews (because the truth is vegan food is just food and pastries are yummy – especially when they're made with high quality ingredients like fair-trade chocolate chips).
We made a conscious decision to not provide bottled water at the event. Alternatively, each attendee received a reusable water bottle at check-in. With Stark State College's super-cool water bottle filling stations, this was an obvious solution. And it was a bonus piece of swag for our attendees. WordCamp attendees loved the water bottles, and we loved seeing photos of the filling stations popping up on social medi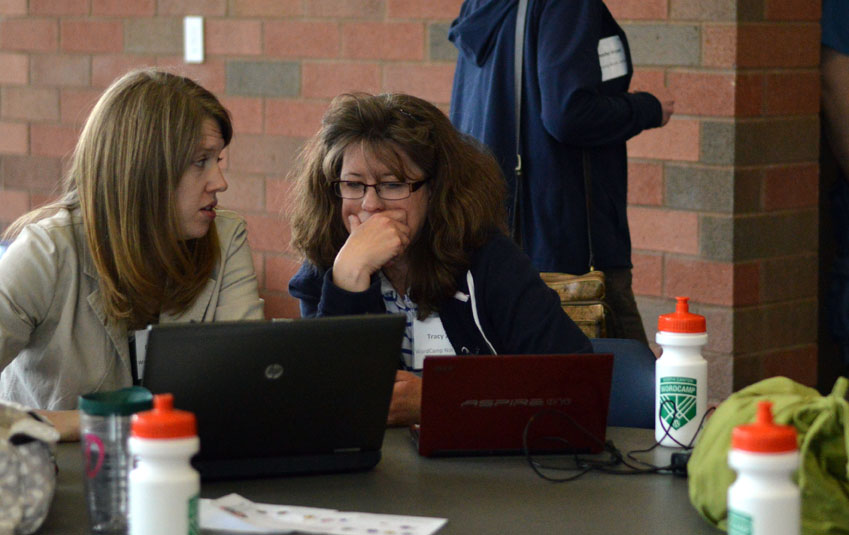 a.
Encouraging Participation
Our WordCamp had 135 attendees. We needed all of them to get on board with our zero waste event goal. We made advance announcements via social media that we were aiming for zero waste. We made reminder announcements throughout the day asking attendees to be conscious of our efforts and do what they could to help. It turned out that they not only participated but really loved it. WCNC2013 was trending on Twitter — not only about the event but our zero waste efforts too.
At the end of the day, WordCamp North Canton had a 98% waste deflection rate, meaning we succeeded in zero waste. It's a pretty cool thing to be able to say, especially considering that our only effort was really in thinking about the decisions we were making. We feel confident that anyone (especially in larger cities where green options are more widely available) can organize a zero waste WordCamp.

Tips for WordCamp (and other event) organizers
1. Recruit an organizing team that is environmentally conscious.
2. Seek out a venue that is green, if you can; any building that is LEED certified is awesome.
3. Look for food providers and other vendors who offer sustainable products.
4. Afraid you'll have leftover food? Research what are "food rescue" organizations are in your area that will take leftover food and feed it to someone hungry.
5. Think about what you're providing at the event. Print on both sides of paper, or not at all. Try buying eco-friendly swag. Tell attendees to bring their own water bottles; even if you don't have super-cool filling stations, you can provide a large water dispenser.
6. Partner with other organizations that can help you. If we could find a zero waste station to borrow in North Canton, Ohio, you can probably find one in your city.
7. Make the zero waste effort a key part of the event. Talk about it. Explain it. Make it fun.
8. Report the results to attendees. Let them know about the awesome results THEY helped make possible.
Think going zero waste is too large of a commitment? Perhaps you'll be inspired like we were by this quote:
"Don't do nothing because you can't do everything. Do something. Anything." — Colleen Patrick Goodreau